This year St. Patrick's Day falls on Monday 17th. In this weeks post, I will share lucky number 7 activities you can do to celebrate St. Patrick's Day at home. There are so many ways for you and your children to learn and celebrate, from making rainbows with paper towels to reading books about St. Patrick's Day. All of the activites below are great for kids of all ages so, get comfortable, and hopefully, one of these activities is perfect for you!
While working as a preschool teacher, one of my favourite ways to celebrate St. Patrick Day was to add a drop of green food colouring to the kid's milk during lunch. They always thought it was so unique, and they were always looking forward to it. Another favourite activity of mine was baking (i.e. cupcakes or cake) and adding green food colouring to the batter or icing. In the post, I will list 7 different, easy, and fun activities that you can do to celebrate.
*affiliate links are included in this post
In this post, I tried to include various activities, from reading stories to sensory and science activities. Holidays don't only have to be celebrated and talk about through just one medium (i.e. art), and hopefully, these can inspire you to think outside of the box. I have also included an observation sheet for older children to extend their learning and encourage them to ask questions. The last activity I included is a free St. Patrick's Day Word Scramble with it's answer key. You can print it out and help your kids unscramble the words associated with St. Patrick's Day.
7 Activities To Celebrate St. Patrick's Day
This book talks about the folktale of leprechauns. I learned a lot about the stories; for example, I didn't know that leprechauns could grant wishes, but I did know they were pixies or fairies). The illustrations have such soft colours but are so detailed, and they are so beautiful. This is such an excellent story for young kids.
If you'd like to listen to the book on YouTube Click Here.
2. Paper Towel Rainbow
This experiment is such a fantastic one. It takes little to no time, and all of the items used to make your rainbow are already in your home. I have also included an observation sheet for this activity to help extend the learning for older children. If you visit The Best Idea's For Kids website, you can find many great activities and more! Want to find out how to grow a rainbow; click here.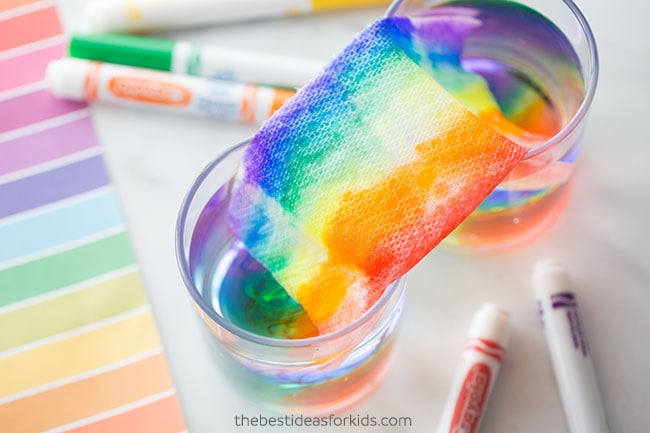 3. Joke Teller
A free downloadable cootie catcher St. Patrick's Day Joke Teller! All you have to do is find where it says " 1 – Get the free printable St. Patrick's Day Joke Teller with folding instructions HERE." and click on "HERE." Find the picture below and it will bring you to the download page for the joke teller. Print out the three sheets and voila there you have it!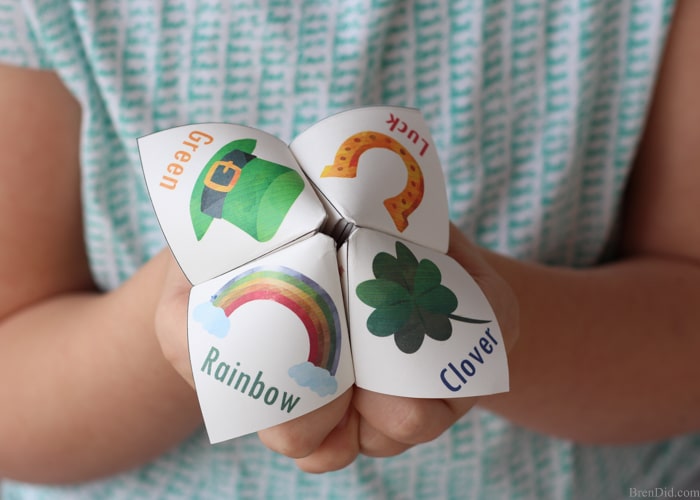 4. St. Patrick's Day Cloud Dough
Making cloud dough and adding St. Patrick's Day-themed items is a perfect way to celebrate St. Patrick's Day. I found a fantastic recipe on midgetmomma.com for cloud dough, and it's easy and uses minimal ingredients. If you are interested in making cloud dough, click here. A few St. Patrick's Day-themed items you can add green food colouring, green jello mix (sugar-free), or adding St. Patrick's day toys. You could add toys like gold coins, clovers, or St. Patrick's Day cookie cutters).
5. Coin Hunt
Who doesn't like a good scavenger hunt? This is the perfect activity for young children. You can hide St. Patrick's Day coins inside or outside, and depending on how many coins you have hidden will determine how long it will take for your kids to find them. You can purchase coins at the dollar store, or I will leave an Amazon link here. The link will bring you too small cauldrons and coins, and I chose to share this link so the kids can have a place to keep their coins as they search for more.
6. White Flowers in Green Water
As for this activity, it is the perfect science experiment for young children. They will learn about how flowers absorb or drink water, the vocabulary of a flower (i.e. stem, petal, and absorb), and so much more. What your child can learn during this experiment is up to you. Any white flower will work, but I am using a white rose. Other flowers that can be used are chrysanthemums and daisies.
7. Word Scramble
The word scramble below is a free and fun activity that I created for you to enjoy this St. Patrick's Day. It is a free download, and the link is below. All the words are St. Patrick's Day-themed that are scrambled together with the letters out of order. Once you have solved the words, write the answer on the line provided. You can download it right onto your computer or phone and print it out. I hope you enjoy this activity and maybe you can do it together with your family. This is the perfect activity for letter recognition and sounding out words and so much more.
Conclusion
I had so much fun putting together some easy, minimal mess and hopefully some new activities ideas you can do this March in celebration of St. Patrick's Day. I can't wait to refer back to this post next year for some inspiration for activities to do once the girls are a bit older. If you try or use any of these activities, make sure to tag me on Instagram!
What other activities have you tried to celebrate St. Patrick's Day with your kids?
My answer: We listened to Irish music and I found some great playlists on Apple Music.
Disclaimer: I am not a doctor; I am just speaking from my own experience. These posts are inspired by what I have learned through research, teaching, different people's experiences, and my own as a mother. I am part of the Amazon affiliated program and I will disclose whether links provided are affiliate links. To read more on this visit my privacy policy.
If you would like to request topics related to parenting, teaching or children, that I should write about please let us know by on our Instagram or in the comments below.